Coordinating a statewide strategy
The Arizona Attorney General will direct the spending of the state's share of opioid settlement funds with consent of the legislature. Attorney General Kris Mayes will work with statewide and local agencies, local governments, neighborhood-based coalitions, and non-profit organizations to address the areas of greatest need through a strategic plan to remediate the worst of the harms caused by the opioid epidemic.
Total anticipated allocations over 18 years       
$501,949,608.56
Total actual allocations as of June 30, 2023       
$35,726,611.06
Total amount awarded as of June 30, 2023       
$5,000,000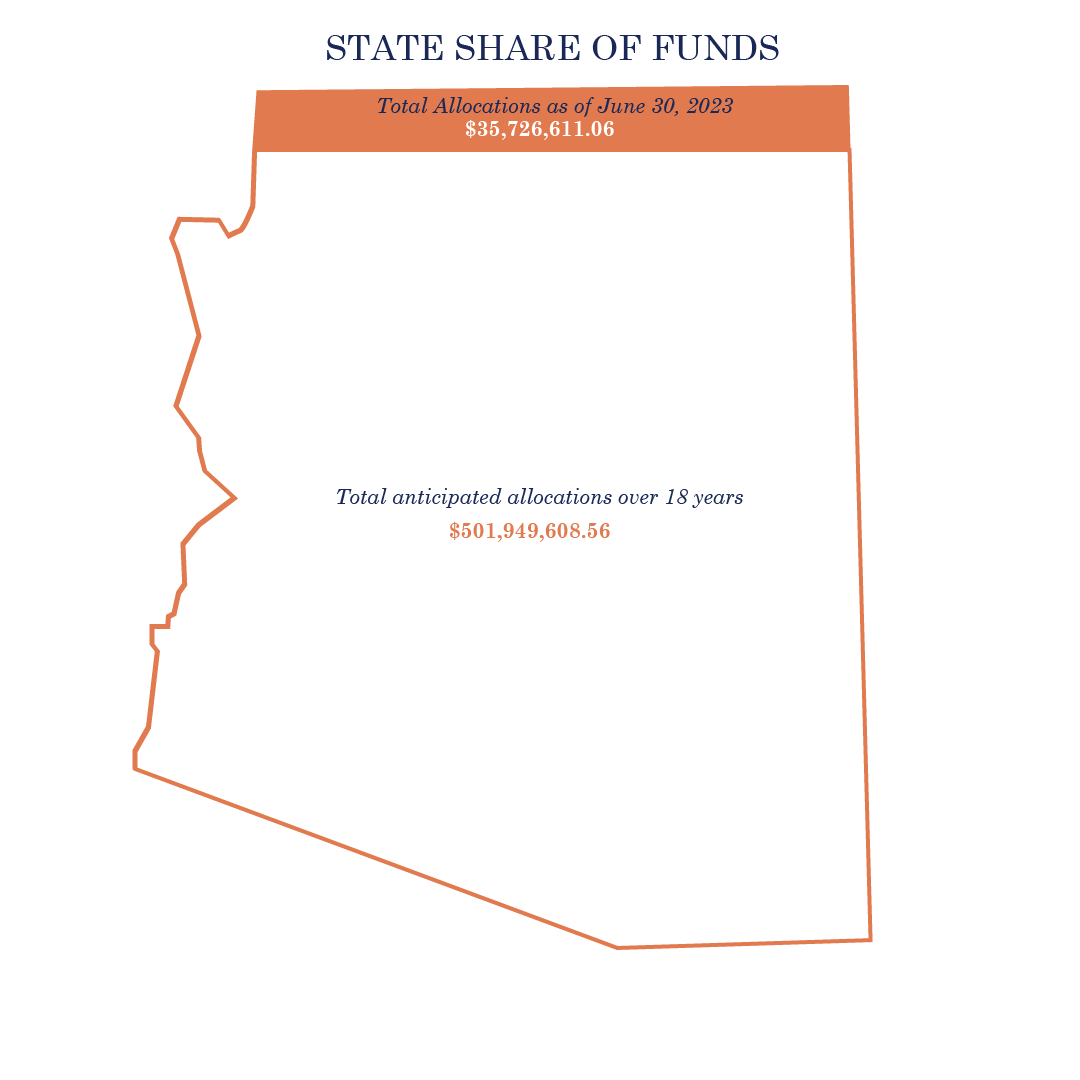 State expenditures
The funds allocated to the State may be used for opioid education, prison and jail opioid programs, interdiction and abatement, and more. The settlement funds allocated to the State are subject to legislative appropriation. The Arizona Legislature approves the amount of the appropriation and the period of time it covers. The State creates an Expenditure Plan for distribution of the funds and submits the plan to the Joint Legislative Budget Committee.
The State will report the distribution of its share of the funds through June 30 of each year. The report will be available annually by September 30.
Total State Allocations

Reflects current totals as of June 30, 2023

Name Of Settlement

 

Distributors

Janssen

Payment 1

 

$9,320,618.29

$3,148,838.59

Payment 2

 

$10,519,547.41

$6,881,173.88

Payment 3

 

$0

$5,856,432.89

Total

 

$19,840,165.70

$15,886,445.36
State Expenditures

Reflects current totals as of June 30, 2023

Allocation Recipient

 

Amount Awarded

Program Funded

Approved Purpose Category

Disbursement Terms

Date

Project Period

Cope Community Services

 

$249,656.00

PRM Alumni Association

B. Support People in Treatment and Recovery

Annual

2/27/2023

FY23

Phoenix Rescue Mission

 

$159,720.00

PRM Alumni Association

B. Support People in Treatment and Recovery 

Annual

2/27/2023

FY23

Parents Of Addicted Loved Ones

 

$64,502.00

Educating Families of SUD-OUD (Statewide)

K. Support Training to Abate the Opioid Epidemic Through Activities, Programs, or Strategies

Annual

2/27/2023

FY23

FullCircle Program Inc

 

$250,000.00

FullCircle Program

B. Support People in Treatment and Recovery

Annual

2/27/2023

FY23

Hope For Addiction Inc

 

$112,204.25

Freedom House

B. Support People in Treatment and Recovery

Annual

2/27/2023

FY23

True Pursuit

 

$229,100.00

Rise Up Mentorship Program

C. Connect People Who Need Help to the Help They Need (Connections to Care)

Annual

2/27/2023

FY23

Wilson Leigh & Associates

 

$249,980.00

MATCore Implementation

A. Treat Opioid Use Disorder

Annual

2/27/2023

The Dream Institute

 

$247,104.65

Short Creek Dream Center

B. Support People in Treatment and Recovery

Annual

2/27/2023

FY23

Southwest Behavioral Health Services Inc

 

$250,000.00

Enhance established services and build sustainability in recovery support services.

B. Support People in Treatment and Recovery

Annual

2/27/2023

FY23

Empact Suicide Prevention Center

 

$125,036.00

Youth Opioid Prevention Program

G. Discourage or Prevent Misuse of Opioids

Annual

2/27/2023

FY23

Apache County Youth Council

 

$95,840.80

ACYC Opioid Prevention Project

D. Address the Needs of Criminal- Justice- Involved Persons

Annual

2/27/2023

FY23

Cga Inc. (Casa Grande Alliance)

 

$250,000.00

CGA Youth Resiliency Project

G. Discourage or Prevent Misuse of Opioids

Annual

2/27/2023

FY23

Notmykid Inc

 

$250,000.00

Opioid Prevention & Recovery Support (Mohave)

B. Support People in Treatment and Recovery

Annual

2/27/2023

FY23

Notmykid Inc

 

$250,000.00

Opioid Prevention & Recovery Support (Pima)

B. Support People in Treatment and Recovery

Annual

2/27/2023

FY23

Graham County Substance Abuse Coalition

 

$250,000.00

Increasing Fentanyl Awareness

A. Treat Opioid Use Disorder

Annual

2/27/2023

FY23

Chicanos Por La Causa Inc

 

$225,522.00

CPLC Parenting Arizona

G. Discourage or Prevent Misuse of Opioids

Annual

2/27/2023

FY23

City Help Inc Of Phoenix

 

$241,334.35

Phoenix Dream Center

A. Treat Opioid Use Disorder

Annual

2/27/2023

FY23

Jacobs Hope Inc

 

$249,999.95

Expansion of Infant Inpatient Program

E. Address the Needs of Pregnant or Parenting Women and their Families, Including Babies with Neonatal Abstinence Syndrome

Annual

2/27/2023

FY23

Hushabye Nursery

 

$250,000.00

Hushabye Nursery Rural Expansion

E. Address the Needs of Pregnant or Parenting Women and their Families, Including Babies with Neonatal Abstinence Syndrome

Annual

2/27/2023

FY23

City Of Yuma

 

$250,000.00

LEA

G. Discourage or Prevent Misuse of Opioids

Annual

4/5/2023

FY23

Graham County

 

$250,000.00

LEA

G. Discourage or Prevent Misuse of Opioids

Annual

4/5/2023

FY23

Cochise County

 

$250,000.00

LEA

G. Discourage or Prevent Misuse of Opioids

Annual

4/5/2023

FY23

Off Madison Ave

 

$250,000.00

Awareness Campaign

G. Discourage or Prevent Misuse of Opioids

Annual

12/29/2022

FY23

Total

 

$5,000,000