The Arizona Attorney General's Community Outreach and Education Division is committed to protecting Arizona and its citizens through prevention and education. The Office provides free valuable tools and resources for Seniors, Parents, Schools, Military and Veterans, and Law Enforcement. During FY2019, the Community Outreach Division: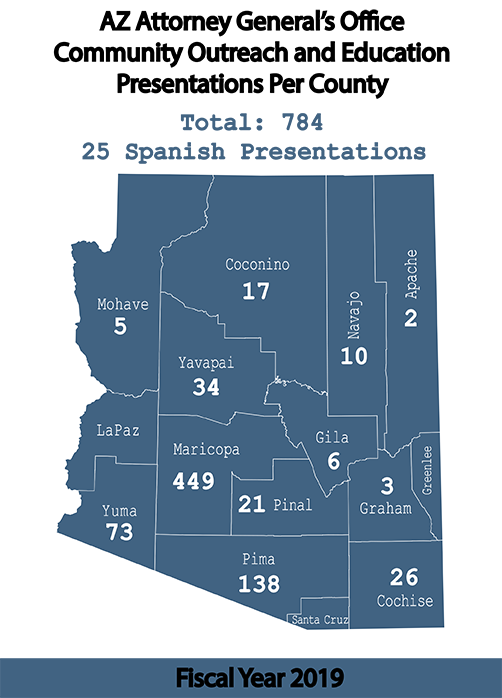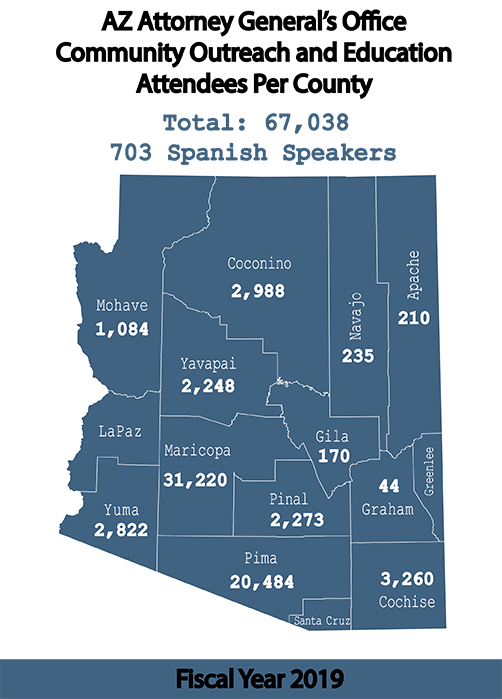 Delivered 16,920 Life Care Planning packets
Delivered 50,862 Scam Alert emails
Shredded 32,390 pounds of sensitive documents at community events
Community Outreach staffed educational tables at another 65 community events, providing free resources to another 12,500 Arizonans. For more information on Community Outreach, or to schedule a presentation, click here.

Useful links for the community are also provided below.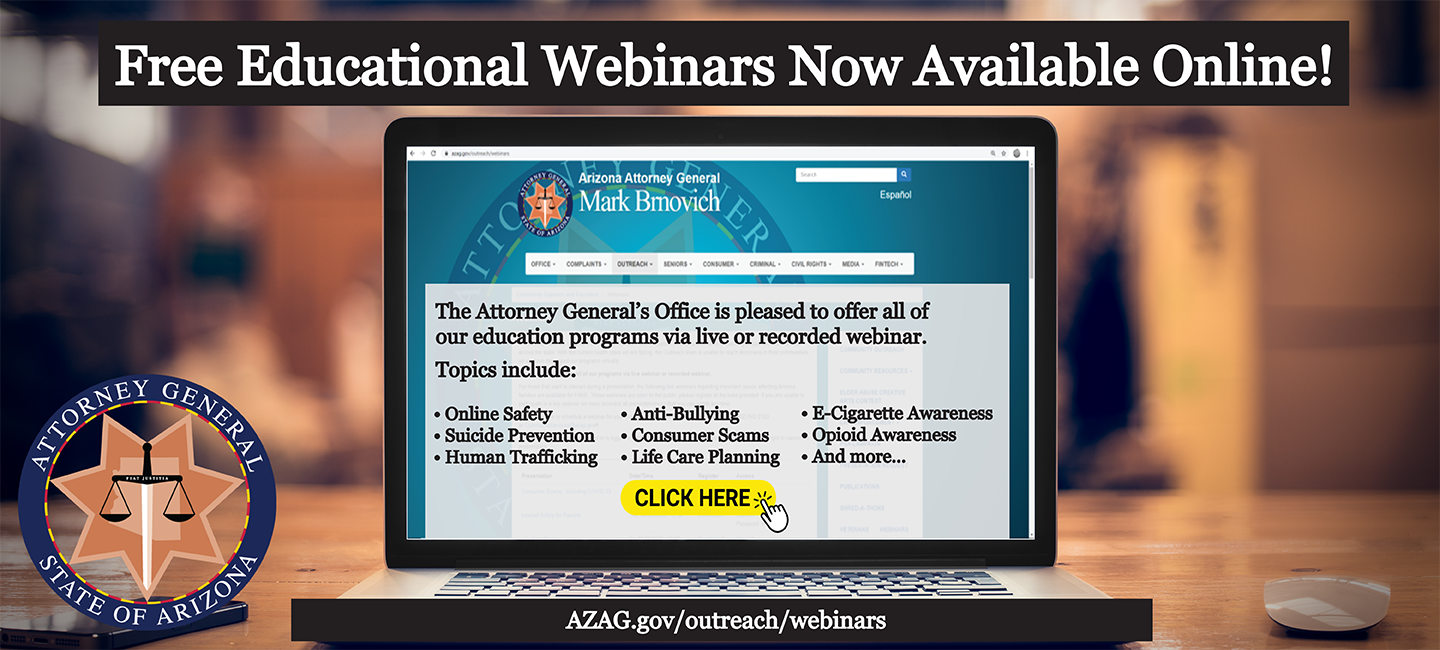 The Arizona Attorney General's Office is rising to meet the challenges of this pandemic and stands ready to assist your family during this difficult time. Our Community Outreach and Education team travels statewide and speaks to thousands of Arizonans every year. Right now, instead of visiting schools and meeting with groups in their community, our team has adapted to meet the majority of Arizonans where they are today: at home.
We are pleased to offer all of our programs via live webinar or recorded webinar. Learn more about our webinars.
---
As the elderly population grows, protecting Arizona's older citizens continues to be one of the most important responsibilities of the Attorney General's Office. Far too often, scam artists target senior citizens. Seniors are often perceived by criminals as vulnerable with easily accessible accounts and pensions. As a result, seniors fall victim to a wide range of consumer fraud and scams. The Arizona Attorney General's Office works to protect all of Arizona's seniors by providing informative classes and information to educate seniors, taking legal action against those who prey on seniors and supporting legislation to toughen penalties against those who commit crimes against Seniors.
---
The Attorney General is dedicated to ensuring that veterans and active duty military service members receive the benefits they have earned. The office provides numerous resources and guides, including a hotline devoted to those who have served, useful pre and post deployment information and valuable tools aimed at helping veterans. 
---
The Arizona Attorney General's Office ("AGO") is committed to supporting local law enforcement officers, agencies, and communities across Arizona. In partnership with federal, local, and state law enforcement agencies, the AGO provides tools, resources, and training to licensed and commissioned Arizona Peace Officers statewide. These partnerships focus on officer safety, life-saving medical care, law enforcement community relations, continuing and enhancing technical skills, and protecting Arizonans. In the past year, the AGO has sponsored dozens of free educational classes tailored to law enforcement officials including "street medicine" life-saving trauma courses, American Heart CPR / AED classes, handgun technical training, and opioid reversal drug (Narcan) administration classes.
Varying law enforcement classes were conducted in almost every Arizona county during FY2019. Highlights of that instruction include four in-depth "train the trainer" classes on the administration of Narcan for 35 trainers, and an additional 78 officers instructed on how to administer Narcan. Approximately 219 officers were trained in basic and advanced street medicine statewide. Another 67 students were instructed in advanced handgun and skill-building handgun classes. Another 78 students were certified in life-saving CPR techniques. In total, nearly 500 officers or law enforcement personnel were provided free instruction through 56 statewide classes offered by the AGO in FY2019.
To schedule a free law enforcement training or to learn more about the services the Attorney General's Office provides to law enforcement, click here.
---
Arizona Peace Officers Memorial Board
The Attorney General is the statutory agent charged to lead the Arizona Peace Officers Memorial Board, the committee was created by legislative act in 1986 and is responsible for carrying out the annual Peace Officers Memorial Service in May. The memorial, located in Wesley Bolin Plaza, was dedicated in 1988, and includes the names of more than 330 Arizona peace officers who have died in the line of duty. Having now existed for more than 30 years, the memorial is in need of refurbishment and improvements that will help ensure the monument properly honors Arizona heroes who have paid the ultimate price for generations to come. To that point, the Attorney General's Office helped secure $1,000,000 in funding from the legislature using penalties and fees received from civil settlements with the Office to provide improvements to the memorial. The architectural review process is currently underway and the board continues to meet with stakeholders to finalize plans for a targeted rededication in 2021.
More information on the memorial and the Peace Officer's Memorial Board can be found here.
---
The Office is committed to providing materials to help protect the citizens of Arizona. There are many publications available on our Resource Page