Arizona Revised Statute §41-192(A)(8) requires the Attorney General to "compile, publish and distribute to . . . persons and government entities on request, at least every ten years, the Arizona agency handbook." Due to the high cost of publishing, the current version of the Handbook is posted on the Attorney General's Web site to satisfy this statutory requirement. (Revised 2018)
In addition to and separate from the Agency Handbook, the Attorney General's Office has created a Conflicts Manual that communicates to state agencies specific and detailed policies and procedures that shall address the Office's determination when conflicts of interest or potential conflicts of interest arise. This manual can be accessed here.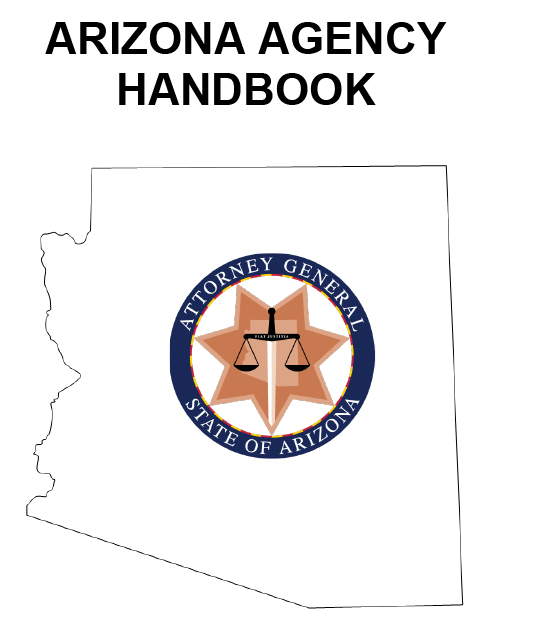 ---
PREFACE
This edition of the Handbook supersedes the 2014 edition and reflects the changes that have occurred in the laws governing state agencies since 2014. This publication is intended to provide guidance to State officers and employees and to the lawyers who represent the State or appear before its boards and agencies. The Handbook does not itself create legal rights or obligations; instead it is a reference source that discusses laws otherwise created by statutes, regulations, and the state or federal constitutions.
The 2018 edition of the Handbook is available on the website of the Attorney General's Office at www.azag.gov. Individual chapters will be updated periodically to reflect significant legal developments, and such revisions will be posted on the website as they become available. Comments and suggestions concerning the Handbook are welcome and should be sent to the Solicitor General's Office at the Office of the Attorney General, 2005 North Central Avenue, Phoenix, Arizona, 85004.
---
TABLE OF CONTENTS
CHAPTER
01. THE ATTORNEY GENERAL AND THE DEPARTMENT OF LAW
02. PUBLIC OFFICERS AND EMPLOYEES
03. PERSONNEL
04. PUBLIC MONIES
05. PROCUREMENT
06. PUBLIC RECORDS
07. OPEN MEETINGS
09. LICENSING
10. ADMINISTRATIVE ADJUDICATIONS
11. RULEMAKING
12. ENFORCEMENT
13. LITIGATION AGAINST STATE ENTITIES
14. DETECTION OF CRIMINAL VIOLATIONS
16. LOBBYING