AG's Office Mailing First Batch of Checks, More Than $2.6 Million
PHOENIX – Attorney General Mark Brnovich is notifying Arizona consumers to be on the lookout for the first batch of Volkswagen (VW) checks.  More than 2,700 Arizonans will receive an initial payment of $964.00. This will be the first of three batches of checks mailed to potentially more than 11,000 eligible Arizona consumers.
Sample Check (pictured below)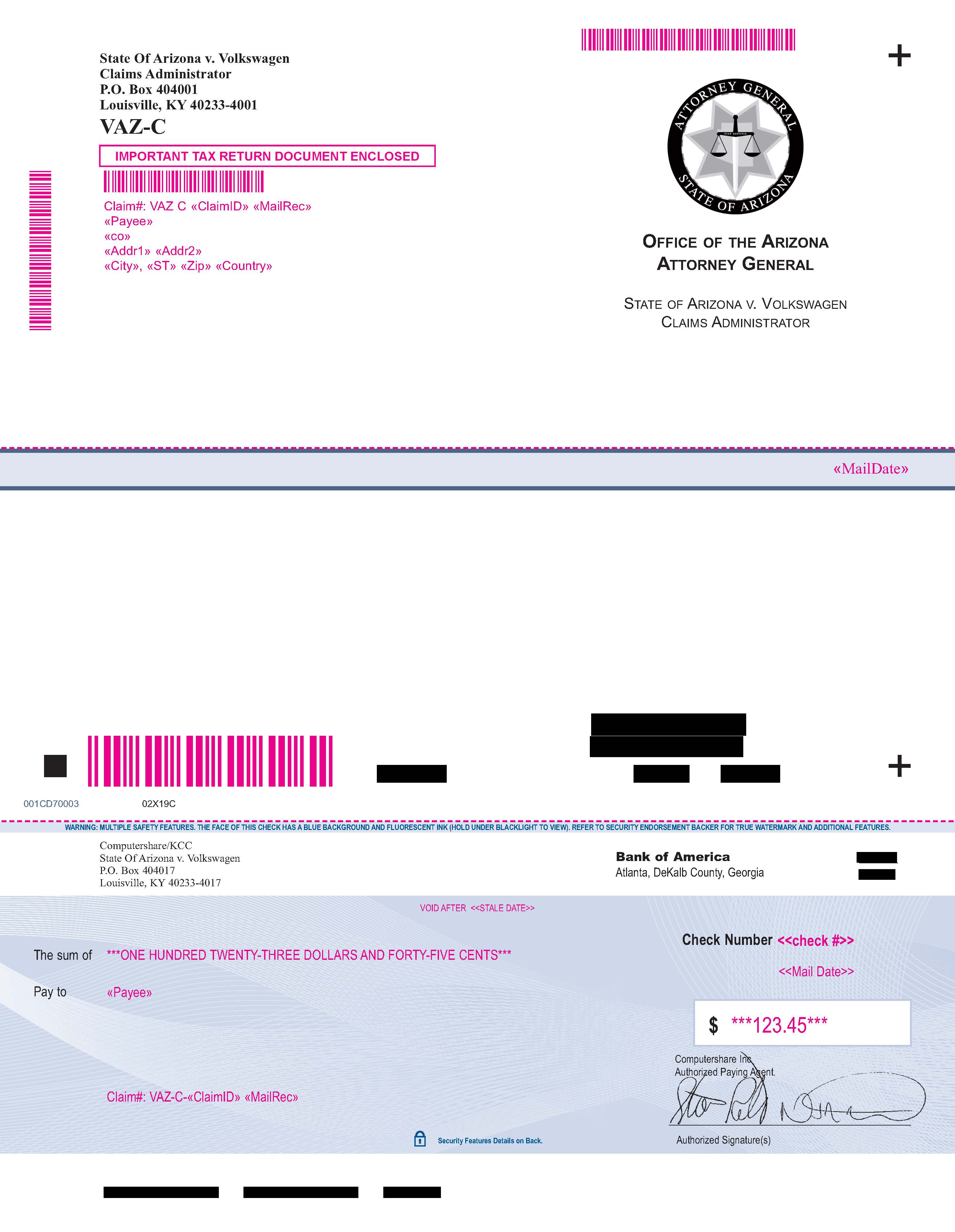 If you receive a check, deposit or cash the check with your financial institution within 90 days. No further action is required on the consumer's part. The deadline to submit an eligibility claims form for all consumers is November 26, 2018.
A second batch of checks will be distributed in November 2018. A final check distribution date will take place in January 2019, including all remaining eligible claims submitted, as well as the fulfillment of any remaining balance of claims for all eligible consumers.
The restitution money comes as a result of a 2016 false-advertising lawsuit filed by the Arizona Attorney General's Office against VW for its so-called "Clean Diesel" cars. This past May, a settlement was reached, and VW agreed to pay Arizona consumers more than $10 million for every qualifying vehicle sold and leased in the state between 2008 and 2015. An additional $20 million was transmitted by the Attorney General's Office to the state's general fund for education purposes. To date, Arizona is the only state to recover additional settlement dollars for VW consumers.
The VW scandal first broke back in 2015, when the EPA discovered that certain diesel car models were intentionally programmed to activate emissions controls only during testing.
If consumers believe they are eligible for a check, but did not receive a claims form, they are encouraged to contact the Claims Administrator at 1-866-507-8035 or VWArizonaClaims@Classactmail.com.
Listing of covered vehicles:
2.0-Liter Diesel Models, With Model Years
2009       VW Jetta, VW Jetta Sportwagen
2010       VW Golf, VW Jetta, VW Jetta Sportwagen, Audi A3
2011       VW Golf, VW Jetta, VW Jetta Sportwagen, Audi A3
2012       VW Golf, VW Jetta, VW Jetta Sportwagen, Audi A3, VW Passat
2013       VW Golf, VW Jetta, VW Jetta Sportwagen, Audi A3, VW Passat, VW Beetle, VW Beetle Convertible
2014       VW Golf, VW Jetta, VW Jetta Sportwagen, VW Passat, VW Beetle, VW Beetle Convertible
2015       VW Golf, VW Golf Sportwagen, VW Jetta, Audi A3, VW Passat, VW Beetle, VW Beetle Convertible
 
3.0-Liter Diesel Models, With Model Years
2009       VW Touareg, Audi Q7
2010       VW Touareg, Audi Q7
2011       VW Touareg, Audi Q7
2012       VW Touareg, Audi Q7
2013       VW Touareg, Audi Q7, Porsche Cayenne Diesel
2014       VW Touareg, Audi Q7, Porsche Cayenne Diesel, Audi A6 Quattro, Audi A7 Quattro, Audi A8L, Audi Q5