AG's Office Mailing Consumer Restitution Checks for Payment of $385 Each
PHOENIX – As Arizona kicks off Consumer Protection Week, Attorney General Mark Brnovich wants Arizona consumers to be on the lookout for settlement checks in the mail related to the Arizona Attorney General's Office lawsuit against General Motors LLC (GM). More than 13,000 Arizonans will receive a payment of approximately $385, with the total amount of checks totaling over $5 million. These checks are being mailed to eligible Arizona consumers who previously received and returned a consumer release prior to the deadline of January 9, 2019.
Sample Check (pictured below)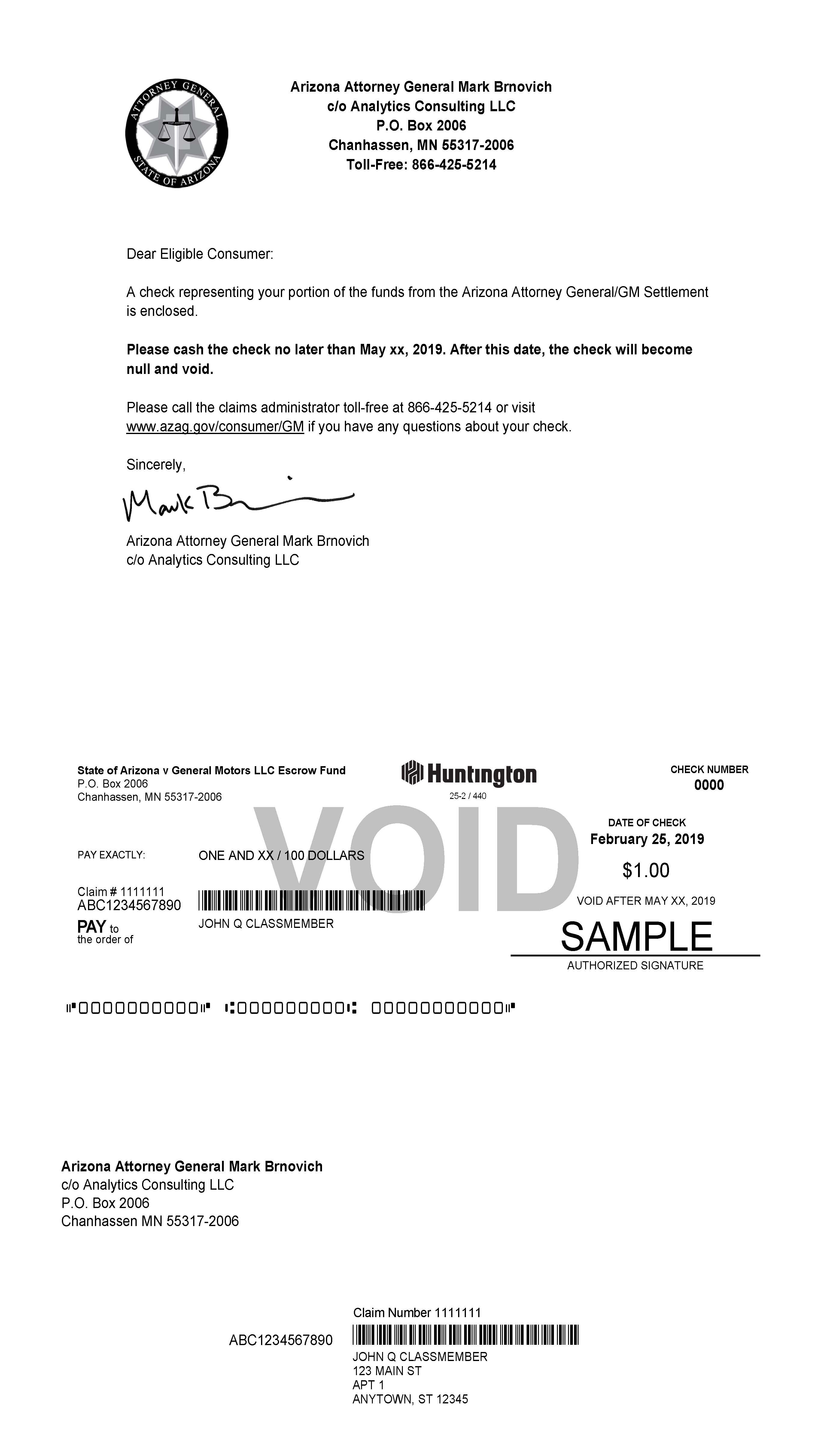 If an eligible consumer receives a check, the consumer should deposit or cash the check with their financial institution within 90 days. No further action is required on the consumer's part. 
The Arizona Attorney General and General Motors reached the settlement in March 2018 regarding certain GM vehicles that were recalled for ignition switches, airbags, and power steering systems in 2014. Any Arizona resident who purchased an eligible new or certified pre-owned GM vehicle from a GM dealer located in Arizona between July 10, 2009 and July 10, 2014, and did not resell the vehicle before the announcement of the involved recall, may be an "Eligible Consumer." Read the full Consent Judgment.
Anyone who believes they are eligible for a check, but did not receive a Consumer Release form, you may contact the Claims Administrator toll free at 1(866)-425-5214 or by email at AZAGSettlement@noticeadministrator.com.