PHOENIX -- Attorney General Mark Brnovich today announced his office has obtained a consent judgment with biopharmaceutical company Pfizer Inc. ("Pfizer"), following an investigation into the company's business and advertising practices for its copayment coupon program. As part of the program, consumers were told that they would "pay no more than" $15 or $20, for example, for certain drugs – but ended up spending far more at the pharmacy cash register.
"Accuracy in advertising is required and certainly so when dealing with healthcare and pharmaceuticals," said Attorney General Mark Brnovich. "My office has and will continue to protect hardworking Arizona families from inaccurate claims regarding the true cost of their medications."
The consent judgment resolves allegations that Pfizer deceptively marketed its copayment coupon program for its Estring (which treats vulvar and vaginal atrophy due to menopause), Quillivant XR, and Quillichew ER ("Quillivant") (which treat ADHD), and Flector Patch (an NSAID patch that treats acute pain) products when it distributed these copayment coupons to consumers throughout the state without clearly and conspicuously disclosing the material terms and conditions.
Pfizer's copayment coupons stated in large, clear text that eligible consumers would "PAY NO MORE THAN" certain amounts out-of-pocket.  For example, large, bold print on the Quillivant copayment coupon said that a consumer using the copayment coupon would "PAY NO MORE THAN $20" for a prescription (Ex. 1).  In fact, consumers frequently paid significantly more than the amount that appeared on the Pfizer copayment coupons because of limits on total savings that were not disclosed prominently.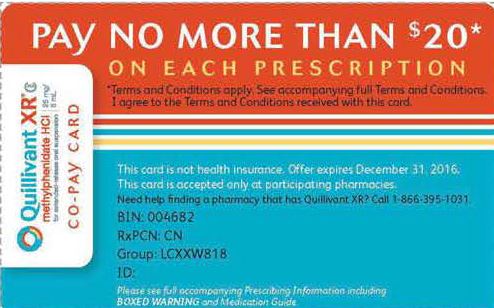 Ex. 1
Pfizer has agreed to change the text of copayment coupons to explain that patients could "pay as little as" a certain amount, a process Pfizer implemented as of early 2018. 
The Attorney General's consent judgment requires the company to pay $94,527.23 in restitution to over 1,600 consumers, as well as $30,000 to the state for costs and attorney's fees.  Pfizer also must cease use of "pay no more than" language in printed materials and copayment coupons when the terms and conditions reveal that some consumers may pay more.
Consumers will receive one restitution payment.  Arizona consumers eligible for restitution will be contacted by Pfizer directly, with no action necessary on their part.
This matter was handled by Assistant Attorney General Dylan Jones.
If you believe you have been the victim of consumer fraud, you can file a consumer complaint by visiting the Attorney General's website. If you need a complaint form sent to you, you may contact the AGO in Phoenix at (602) 542-5763, in Tucson at (520) 628-6648, or outside the Phoenix and Tucson metro areas at (800) 352-8431.
Copy of Complaint here. 
Copy of Consent Judgment (pending court approval) here.