Contact: Ryan Anderson (602) 542-8302 or Ryan.Anderson@azag.gov 
Better Business Bureau releases new
small business scams research report
VIRGINIA - Today, Arizona Attorney General Mark Brnovich joined the Federal Trade Commission (FTC) and the Better Business Bureau (BBB) in Virginia to discuss the results of Operation Main Street: Stopping Small Business Scams. The partners, along with the offices of seven other state attorneys general and two U.S. Attorneys' Offices, announced the results of a recent nationwide collaborative law enforcement initiative targeting operations seeking to defraud small businesses.
"The role of the state attorney general is not to second guess routine business decisions," said Attorney General Brnovich. "But when someone scams or defrauds a small business, they should be held accountable. In doing so, we create an environment where all legitimate business owners can thrive."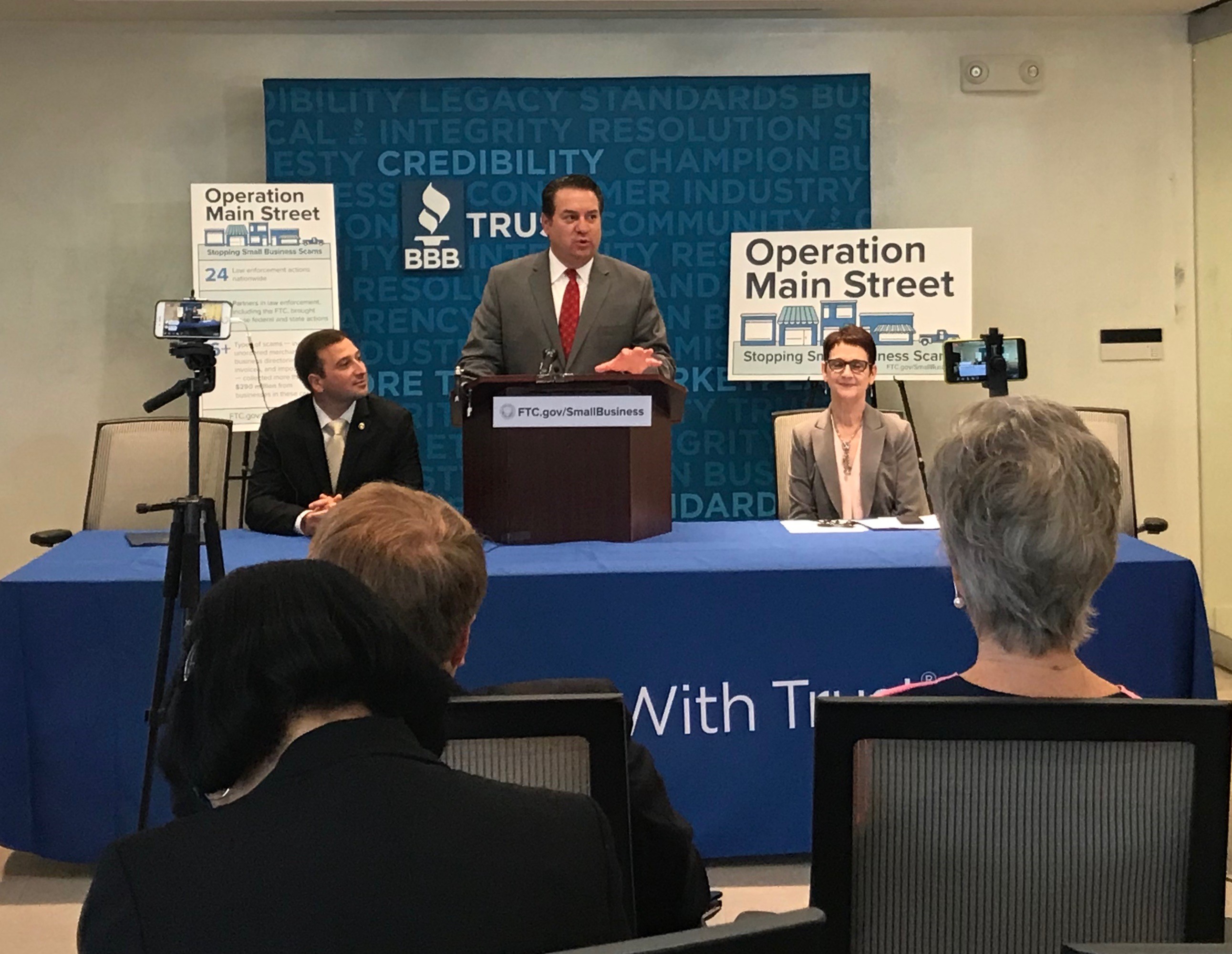 The state and federal agencies are announcing a total of 23 actions involving defendants who allegedly perpetrated scams against small businesses, including 17 different actions by state AGs over the past year. Arizona contributed three cases to the nationwide effort.
The cases brought by state and other criminal enforcers as part of Operation Main Street targeted a wide range of allegedly deceptive activities against small businesses, including, among others:
Unordered merchandise scams, in which the defendants try to charge consumers for toner, light bulbs, cleaner, and other office supplies they never ordered;
Impostor scams, in which the defendants use deceptive tactics, such as claiming an affiliation with a government or private entity, to trick consumers into paying for corporate materials, filings, registrations, or fees;
Scams involving unsolicited faxes or robocalls offering business loans and vacation packages; and
Scams involving fake invoices sent to small businesses, in which the defendants try to coerce the companies into paying for products they never received.
Arizona Cases:
"Toner Pirates" – The AGO filed a lawsuit in January of this year against INT Sourcing LLC, Premiere Office Supplies LLC, and their owner James R. Deremiah, an alleged "toner pirate." The Defendants are accused of sending fake toner cartridge invoices to small businesses, churches, and schools to trick them into paying the fake invoice as a routine business matter. Defendants would call businesses to obtain information about the machines and equipment being used, as well as the names of employees and incorporate that information into fake invoices. Defendants allegedly used these invoices to collect over $400,000 from unsuspecting victims.
Compliance Filings Service - Earlier this year, the Arizona Attorney General's Office obtained full restitution for the victims of a "Annual Minutes Compliance Notices" scam that tricked small business owners into purchasing phony compliance filings that were designed to look like real government notices. 850 Arizona small businesses were tricked into paying $150 for Annual Minutes Compliance Notices that supposedly were needed "to meet the terms of the corporate record requirements" of Arizona law. The AGO recovered restitution for every business in the amount of $88,650, more than $64,000 in civil penalties, and more than $19,000 in attorneys' fees.
Mandatory Poster Agency - The AGO obtained a full refund for Arizona Small Businesses who fell for another "Annual Minutes" scam initiated by Michigan-based Mandatory Poster Agency, Inc. The company sent 65,000 deceptive mailers to Arizona businesses, instructing them to pay $125 to fulfill its "Annual Minutes Requirement." More than 1,500 businesses responded. The AGO obtained a $400,000 judgment against the company, providing full restitution for the businesses and more than $200,000 in civil penalties and fees. The company is barred from mailing "Annual Minutes Requirement Statement" or any other deceptive mailer to Arizona businesses.
BBB's Small Business Scams Research Report
Additionally, the BBB is announcing a new research report on small business scams that provides substantial new insights into how fraud affects small businesses.
"Scams are a significant – and growing – problem for small businesses," said Beverly Baskin, President and CEO, Council of Better Business Bureaus. "Nearly two thirds of those we surveyed said their business had been targeted by a scammer in the past three years, and many said that their businesses suffered a loss of consumer trust as a result. BBB is pleased to partner with the FTC to help small businesses spot and avoid scams and fraud."
The report is based on results from a new survey that was conducted in March 2018 through six local BBBs to BBB Accredited Businesses. It contains information from approximately 1,200 small businesses nationwide.
Key results include:
67 percent of the respondents surveyed believe there is a growing risk of scammers targeting small businesses, with only three percent believing that the risk has decreased over the past three years.
The top five scams identified as putting small business at risk are: 1) bank/credit card company imposters; 2) directory listing and advertising services; 3) fake invoices/supplier bills; 4) fake checks; and 5) tech support scams.
38 percent of respondents believe that hearing generally about a particular type of scam is the best way to proactively protect their business, followed by 35 percent who think the best way is to have generally heard about the methods and behaviors of scammers.
The primary motivations for small business to report scams included helping to warn others about the scams, trying to bring justice to the scammer, and trying to recover money lost through the scam.
FTC/BBB Education Materials
In addition, the FTC and the BBB announced new business education materials, designed to help small business owners and their employees avoid, identify, and report scams.
"Scams and Your Small Business" is available in both English and Spanish, and includes information on scammers' tactics, how small businesses can protect themselves from scams, common scams that target small businesses, how to report a scam, and related resources.
"Millions of U.S. consumers either own or work at small businesses nationwide, and the FTC is happy to join with our law enforcement partners and the BBB to help stop scams and spread the word about how they can identify and avoid scams targeting their livelihood." said FTC Chairman Joe Simons. "A top FTC priority is to stem the tide of fraud against small businesses."
Participating Agencies: the following state attorneys general offices contributed to Operation Main Street: 1) Arizona, 2) Delaware, 3) Florida, 4) Indiana, 5) Missouri, 6) New York, 7) Tennessee, and 8) Texas. Additionally, assistance was provided by the U.S. District Attorney's Office for the District of Maryland, the U.S. District Attorney's Office for the Southern District of New York and the New York Division of the U.S. Postal Inspection Service.