More than $3.7 Million in Consumer Restitution and Repair Incentive Gift Cards Available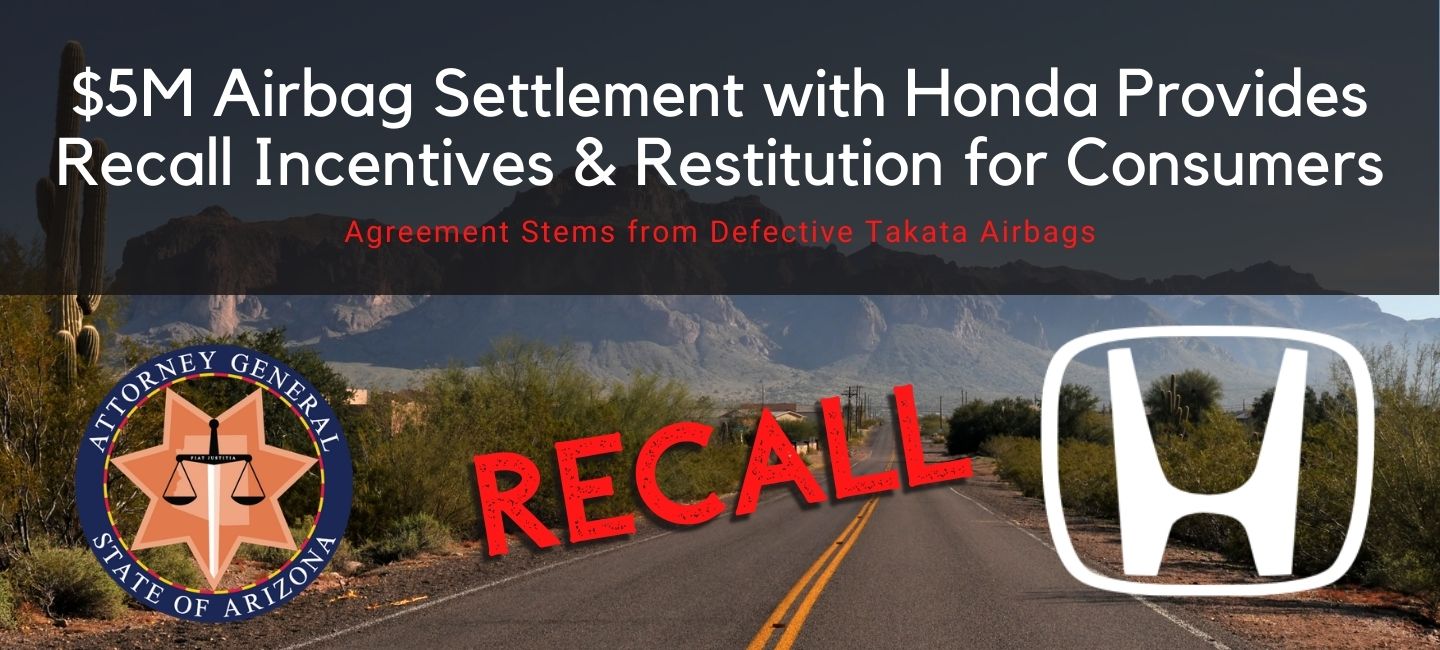 PHOENIX– Attorney General Mark Brnovich today announced a $5 million settlement with American Honda Motor Company, Inc., and Honda of America Mfg., Inc. (Honda), over allegations of concealed safety issues related to defective Takata airbag systems in certain Honda and Acura vehicles. The settlement prioritizes $1.65 million in restitution for Arizona consumers, as well as a $2.13 million repair incentive program to encourage the completion of vital safety recalls.
"Defective Takata airbags have hurt and killed Arizonans and continue to be a serious hazard," said Attorney General Mark Brnovich.  "We estimate more than 40,000 of these dangerous airbags are still on the roads in Arizona, and we are pleading with the owners to get their vehicles repaired immediately."
Honda used Takata airbag inflators that utilized phase-stabilized ammonium nitrate as a propellant in certain Honda and Acura model vehicles sold in the United States (U.S.) for model years 2001-2016. These defective airbag inflators have the potential to rupture and launch metal shrapnel into the passenger cabin.
 
The Arizona Attorney General's Office (AGO) alleged that Honda should have warned consumers purchasing its vehicles about the airbag issues by September 2012, but consumers did not receive notice until November 2015, when federal regulators fined Takata $200 million. Takata filed for bankruptcy in June 2017, but the harm from its conduct is ongoing.
 
For Honda owners and passengers, Takata's defective airbags have caused over 200 injuries and at least 15 deaths in the U.S., including two fatalities in Arizona. Most recently, investigators determined a driver was killed in Mesa after a defective airbag in a 2002 Honda Civic exploded during a crash on August 20, 2020.

Honda has made efforts to compel consumers to respond to recalls, but tens of thousands of Arizona vehicles still contain dangerous airbags.
 
Under the pending AGO settlement, Honda has agreed to pay up to $5 million, consisting of:
Up to $2,130,000 in incentive gift cards to compel consumers to repair their vehicles for free and help remove the dangerous airbags off Arizona's roads.
Up to $1,650,000 in restitution for eligible Arizona consumers who initially purchased a Honda vehicle with a Takata airbag currently subject to recall between September 1, 2012, and November 3, 2015.
$650,000 for outreach to inform consumers of the recall and to encourage drivers to get their defective airbags replaced.
$100,000 to the State for other consumer outreach efforts.
$500,000 as payment to the State.  
Honda also agreed to injunctive relief requiring it to refrain from deceptive or misleading advertising and set up a system for employees to report safety concerns to management.
 
Honda previously reached a settlement with a multistate group.  Arizona elected not to participate because the multistate settlement provided only payments to the states, and did not provide any restitution for injured consumers or incentives to get dangerous airbags fixed.

What Should AZ Consumers Do?
 
Consumers who own a Honda or Acura vehicle are strongly encouraged to visit Honda's airbag recall website or call its Customer Service toll-free number at (888) 234-2138, to see if their vehicle is subject to a recall. All safety recall repairs are FREE at authorized Honda dealers.
 
Arizonans do not need to take any additional action to receive a repair incentive gift card or restitution check. The restitution checks and gift cards will be sent directly to eligible consumers. Gift cards will only be activated after a consumer takes their vehicle to a Honda dealership and replaces their defective airbag.
 
Restitution Checks
More than 15,000 eligible Arizonans, who between September 2012 and November 2015, initially purchased in Arizona a Honda or Acura vehicle with the Takata airbag subject to the recall, will receive a $100 check in restitution.
 
Incentive Repair Gift Cards
Cash-equivalent gift cards will be mailed to approximately 40,000 Arizona consumers who have a defective airbag. The gift cards can only be activated after the consumer takes their vehicle to a Honda dealership for the free airbag replacement.
$150 gift cards will be mailed to individuals who have vehicles with Alpha inflators.
$50 gift cards will be mailed to individuals who have vehicles with non-Alpha inflators. 
For questions regarding restitution or the gift card incentive program, consumers should contact the Claims Administrator at 1(855) 917-3583.
 
Since Attorney General Brnovich took office, his administration has secured well over $100 million in restitution for Arizona consumers, which exceeds the total restitution awards secured by the AG's Office from 2000-2014 combined.
 
This case was handled by Civil Litigation Division Chief Counsel Joe Sciarrotta, Consumer Protection Section Chief Rebecca Eggleston, Unit Chief Counsel Matthew du Mee, and former Assistant Attorney General Bryce Clark.

Copy of the complaint.
 
Copy of the consent judgment. 
 
Copy of AGO letter for restitution. Letter in Spanish.

Copy of AGO letter for incentive program. Letter in Spanish.
 
Below is an example of the repair incentive gift card that will be sent to eligible consumers.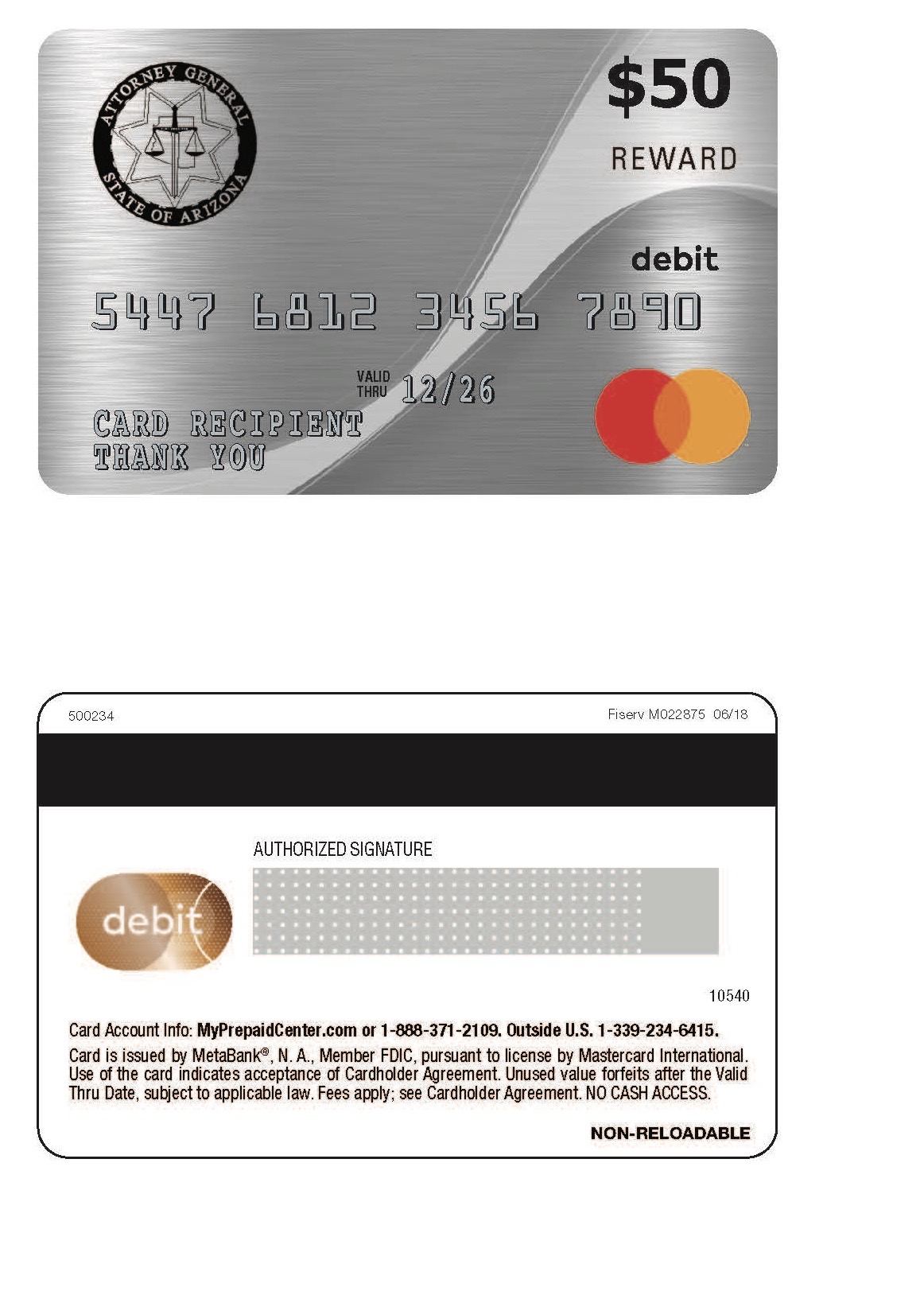 If you believe you have been the victim of consumer fraud or would like to report a business engaging in consumer fraud, you can file a consumer complaint by visiting the Attorney General's website.  If you need a complaint form sent to you, you can contact the Attorney General's Office in Phoenix at (602) 542-5763, in Tucson at (520) 628-6648, or outside the Phoenix and Tucson metro areas at (800) 352-8431. 
###