The Arizona Attorney General's Office is committed to supporting local law enforcement officers, agencies, and communities across Arizona. In partnership with federal, local, and state law enforcement agencies, the Attorney General's Office continues to put public safety first, protecting Arizona families and communities. Additionally, the Office provides tools, resources, and training to licensed and commissioned Arizona Peace Officers statewide. These partnerships focus on officer safety, law enforcement community relations, and protecting Arizonans.
---
UPCOMING LAW ENFORCEMENT TRAINING  
 
Class Name
Date
Time
Location
Advanced Street Medicine
February 22, 2023
0800-1600
Cochise County Sheriff's Office
Bisbee, AZ
Advanced Street Medicine
March 7, 2023
0800-1600
Greenlee County Sheriff's Office
Clifton, AZ
For more information, contact john.stevens@azag.gov
---
Key Topics
---
Contact Information:
John Stevens 
Law Enforcement Liaison 
Office of the Arizona Attorney General 
2005 N Central Ave 
Phoenix, AZ 85004 
Office: (602) 542-8522 
John.Stevens@azag.gov
---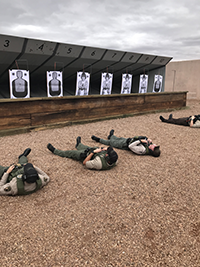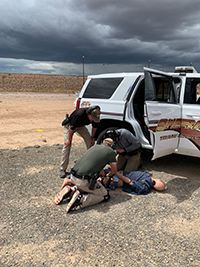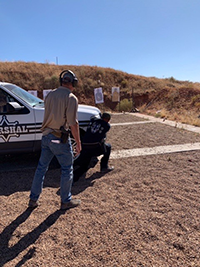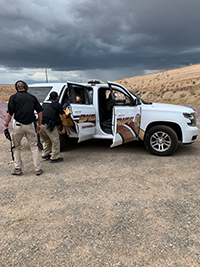 Please see below for a list of available training 
that we can bring to YOUR department.
---
Street Medicine Advanced: (8 hours AZPOST proficiency skills credit.)
Advanced course for first responders focused on providing vital initial treatment to trauma victims with the application of proven medical techniques for law enforcement professionals. (Two classes sign up for either day.)
Scenario based training with the use of tourniquets and other life saving techniques.
The second half of the class will include live fire drills, downed officer drills, and emergency medical procedures.
If your agency has purchased trauma kits, you can contact the instructor and he can personalize the class to your equipment.   
---
Street Medicine Class: (4 hours AZPOST proficiency skills credit.)
This class offers a classroom and hands on application for first responders to handle life threatening trauma and to mitigate its effects using tourniquets, hemostatic agents, pressure dressings and chest seals. This class also has a non-trauma portion that deals with sudden non-trauma events such as heart attack, breathing  and diabetic emergencies.
---
Skill Building Handgun Class: (8 hours AZPOST proficiency skills credit.)
This class targets the Law Enforcement Officer who struggles with their Annual Qualification. The focus of this class is to refresh the student with fundamentals of shooting and provide them with a set of skills and drills they can take back with them to practice with. Every student will be given two attempts at working on completing a successful AZPOST AQ Course of fire.
---
CPR AED Healthcare Provider Course:  (3 hours AZPOST proficiency skills credit)
This is an American Heart Association CPR and AED class. This is the provider course and is limited in class size. The Heart Saver class is also available on request.
---
Low Light Tactics Class: (8 hours AZPOST proficiency skills credit)
This is designed to highlight the student's ability to use light to their advantage. It includes searching in a low light environment and various low light shooting techniques.
---
Advanced Carbine Class: (8 hours AZPOST proficiency skills credit)
This class is designed for the officer who currently carries a carbine as part of their daily assignment. It includes: reloading drills, failure drills, moving and shooting, and use of cover.  Students will shoot from various shooting positions.
---
Advanced Handgun Class: (8 hours AZPOST proficiency skills credit)
Students will complete drills that involve moving and shooting, reloading, malfunction drills as well as positional shooting.
---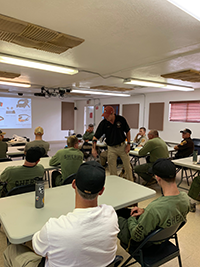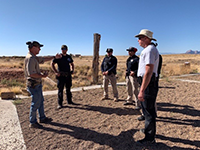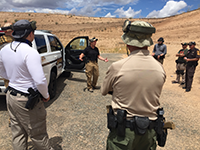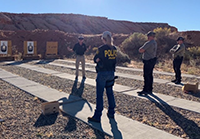 All classes are open to Law Enforcement only.
All classes are available at no charge to any AZ Law Enforcement Agency.
All classes are designed to come to you - we'll make this as easy and inexpensive as possible for your attendees.
Classes are limited in size to allow for maximum participation.
More classes will be coming.