Since 2002 the Attorney General's Office has partnered with the Arizona Department of Health Services to develop and maintain the Counter Strike program. Youth volunteers, accompanied by special investigators from the Attorney General's Office, enter tobacco retailers and attempt to purchase tobacco products. If the retailer sells a tobacco product to the volunteer, they may be given a citation for furnishing tobacco to a minor, a petty offense with a potential fine of $300. The business may also be fined up to $1000 per offense. Follow up letters are sent to the retailer and their corporate office, if any. Department of Health Services may follow up on a failed inspection with merchant education opportunities. If the retailer refuses to sell the tobacco product to the volunteer, they are notified of the inspection and congratulated for their vigilance in keeping tobacco away from kids.
The program's goal is to reduce youth access to tobacco in retail outlets by systematically monitoring retailer compliance with state laws which prohibit the sale of tobacco products to minors. The program also serves to coordinate and encourage local enforcement with those laws. Over 35,000 retail inspections have been performed since the program's inception.
With the assistance of youth volunteers, the Arizona Department of Health Services, and local law enforcement agencies, the Attorney General's Tobacco Enforcement Unit systematically monitors retailer compliance with state laws prohibiting the sale of tobacco products – including electronic cigarettes - to minors. In FY2019, the program performed 2,157 undercover inspections of tobacco retailers, resulting in 551 criminal citations issued to clerks and businesses who sold tobacco products to youth volunteers. TEU works closely with County Attorney's Offices, Justice Courts, and health departments to implement and maintain the Arizona Retail Tobacco Training class and diversion program.
Over the last four years, businesses and individual clerks have been increasingly utilizing the class to become more educated about tobacco laws. After achieving record low fail rates of 11.6% in FY2017 and 9.8% in FY2018, the fail rate for FY2019 increased to 13.3%. TEU attributes the increase in failed inspections primarily to the sale of e-cigarettes to minors. During routine youth tobacco inspections, TEU has found that retailers are more likely to violate the prohibition on sales of tobacco products to minors when the youth volunteer requests an e-cigarette as opposed to cigarettes or other conventional tobacco products.
To visit the Counter Strike website, please go here: http://www.standaz.com/counter-strike/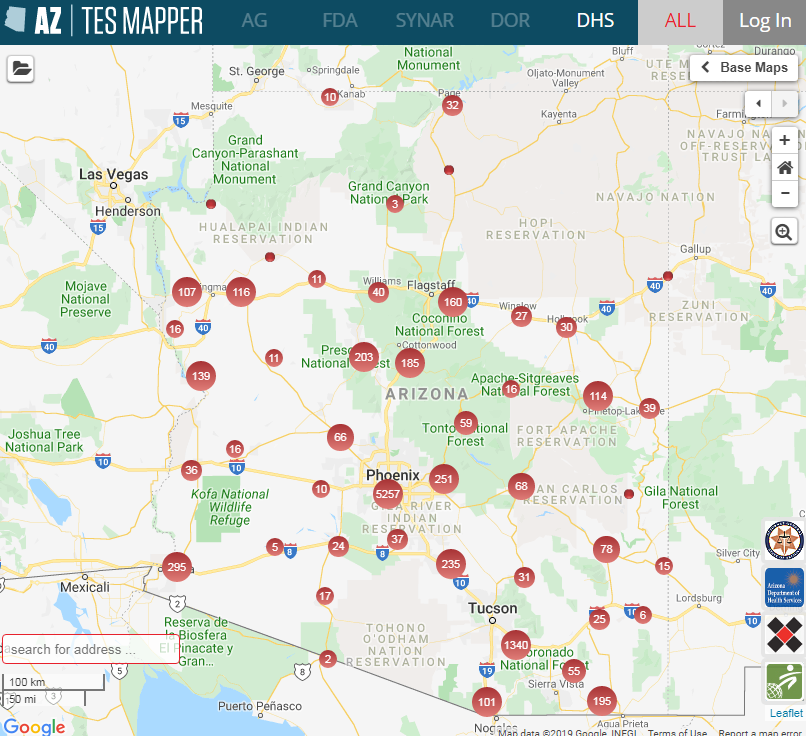 Arizona Retail Tobacco Training (ARTT)
Department of Health Services, the Attorney General's Office, and County Health Departments statewide have developed a new training program for tobacco retailers and their employees.  For more information, including training dates in your county, contact your local County Tobacco Health Educator below.
| | | | |
| --- | --- | --- | --- |
| County     | Contact Person | E-mail | Phone |
| Apache | Irene Sanchez | | (928) 333-6429 |
| Cochise | Suzanne Hagle | | (520) 432-9493 |
| Coconino | Candice Koenker | | (928)679-7264 |
| Gila | Shaunae Casillas | | (928) 402-4242 |
| Graham | Toni Palomino | | (928) 428-0110 |
| Greenlee | Coreena Maldonado | | (928) 865-2601 |
| La Paz | Miranda Rogers | | (928)-669-9625 |
| Maricopa | Reginald Williams | | (602) 372-8407 |
| Mohave | Susan Williams | | (928) 753-0794 Ext:4165 |
| Navajo | Kim Curley | | (928) 289-6830 |
| Pima | Lee Itule-Klasen | | (520) 724-8619 |
| Pinal | Jan Vidimos | | (520) 866-7335 |
| Santa Cruz | Ryann Quick | | (520) 375-6050 Ext:1343 |
| Yavapai | Sharmel Jordan | | (928) 442-5569 |
| Yuma | Lorraine Randolph | | (928) 317-4580 |
Youth Access Statutes:
Furnishing tobacco to a minor- A.R.S § 13-3622
Restrictions on cigarette vending machines- A.R.S. § 36-798.02
Prohibition on sale of single cigarettes, etc.- A.R.S. § 36-798.04
Retail Partners
Several national corporations have entered into agreements with the states in which their franchises are located.  Arizona has entered into these agreements, known as Assurances of Voluntary Compliance (AVC).
Under an AVC, the corporation agrees to conditions which may include instructing their clerks to check identification for all tobacco customers who appear under the age of at least 27, using security videotape to monitor compliance by clerks, eliminating all self-service tobacco displays and vending machines, performing random compliance checks involving youth tobacco purchasers, and implementing other safeguards.  Franchises may be required to report any tobacco sales to minors to the corporate office and multiple violations could result in loss of the franchise, loss of advertising dollars, or other consequences. 
The Tobacco Enforcement Unit is continually developing new retail partners.  If your business is interested in discussing entering into an AVC, please contact us at TobaccoYouth@azag.gov.