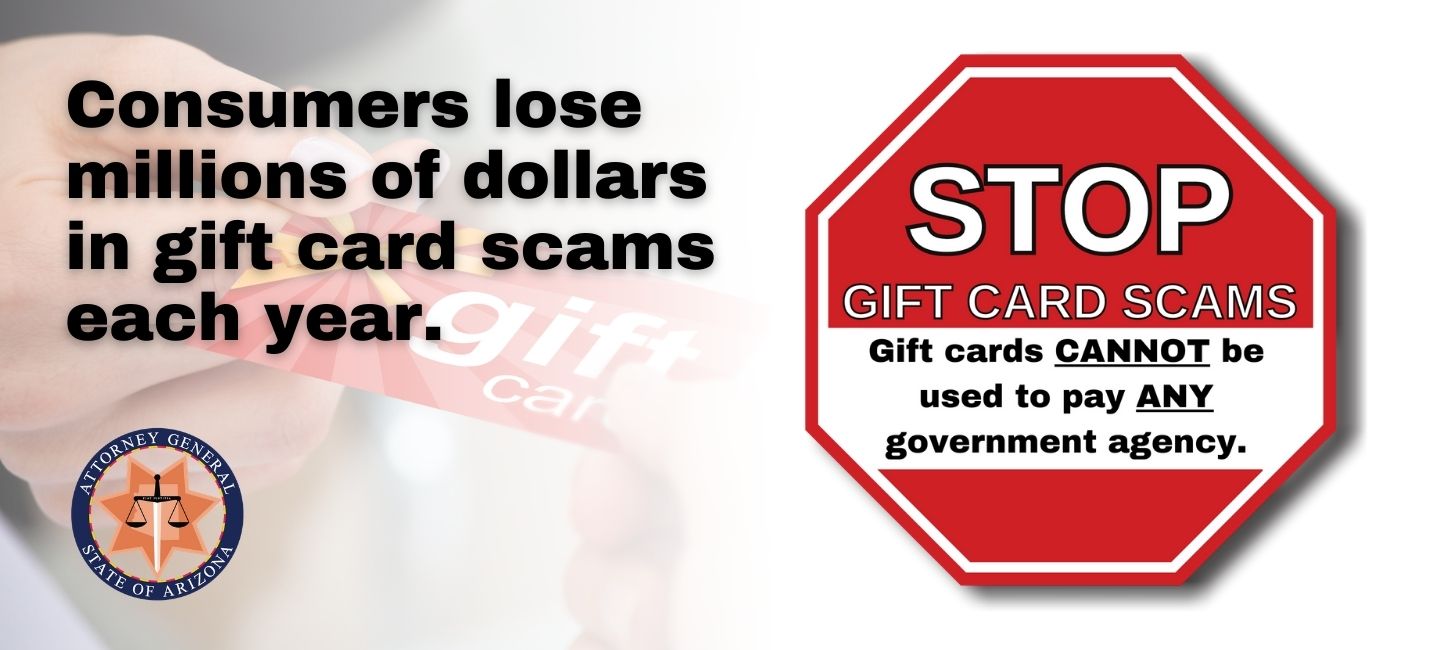 Too many Arizonans have fallen victim to gift card scams. The best way to prevent this type of fraud is to educate consumers before they succumb to highly stressful and aggressive tactics. Every year, consumers lose millions of dollars in scams involving gift cards and/or reloadable cards.
The Arizona Attorney General's Office would like to remind consumers that gift cards can never be used to pay a government agency.
The Arizona Attorney General's Office and CVS Pharmacy recently launched a new consumer fraud awareness program earlier this year to combat gift card scams in Arizona, especially during the holiday season.
All CVS Pharmacy stores in Arizona will display STOP signs at gift card displays to prompt customers to stop and think about why they're buying the gift card, and remind them that gift cards cannot be used to pay any government agencies.
There are many different variations of gift card scams, but one of the most common involves government imposters. Oftentimes, fraudsters call and claim to be from a government agency and ask you to pay off your debt/balance with gift cards. If the debt is not paid immediately, the scammer threatens to arrest you or drop your government benefits or services.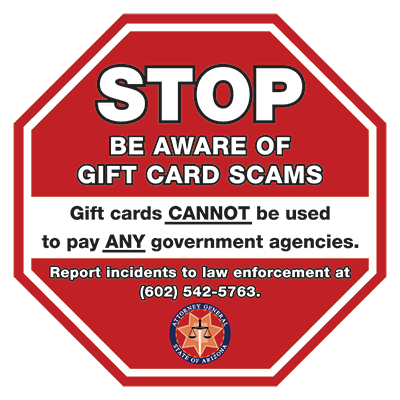 Attorney General Brnovich Offers the Following Gift Card Consumer Tips:
The government will never ask you to pay anything up front to get money, a credit, or a refund.
The government will never call and ask for your Social Security number, bank account information, or credit card number.
The government will never threaten to arrest you for not providing personal information or ask you to purchase gift cards.
Do not give out or confirm personal or financial information unless you know who you are dealing with.
Legitimate government offices will not threaten you with imprisonment or demand that you pay a debt immediately.  
Hang up the phone if you are being harassed.
If you question the legitimacy of the call, email, or other correspondence, contact the agency directly using the information you find on the agency's website.  Do not use numbers or website addresses provided in the original communication, as these may be fake.
Do not wire funds or purchase and send a prepaid card (i.e., iTunes, Amazon, Green Dot, etc.) in response to a telephone call demanding immediate payment.
Look closely at literature you receive claiming to be from a government agency and read the fine print.  Many times these solicitations will look like they are from the government, but the small print may disclose that the sender is not the government agency they claim to be.
If someone comes to your house posing as a government employee, ask to see credentials.
Treat gift cards like cash.
RELATED:
If you paid a scammer with a gift card, file a consumer complaint with the Attorney General's Office. You may also contact the AGO at (602) 542-5763, in Tucson at (520) 628-6648, or outside the metro areas at (800) 352-8431. Bilingual consumer protection staff is available to assist.