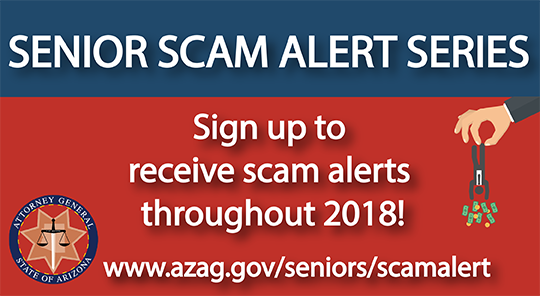 ---
In 2016 Arizona placed at # 19 for states reporting consumer fraud and tenth among states reporting identity theft. Scam artists victimize consumers of all ages, backgrounds and income levels, but the elderly are disproportionately targeted. 
As part of a grant received through the SEARS Consumer Protection and Education Fund, the Attorney General's office is creating a new scam alert series available to the public for FREE. This series seeks to protect Arizona seniors from falling prey to ruthless scammers by delivering one new information card every month in 2018. Each month the cards will highlight a common scam that seniors in Arizona face.
---
Sign up today to receive your monthly Scam Alert, either via email or mail.
Don't miss out on the important information that will help protect you from these criminals.
---
Please leave any questions or comments in the form below