The average age of entry into sex trafficking in Arizona is 14 years old.
The Arizona Attorney General's Office, combats this heinous crime every day through outreach, collaboration, and innovative investigative and prosecution strategies.
Since 2015, the AGO has obtained 62 convictions that are connected to sex trafficking, child sex trafficking, or illegal enterprises/money laundering in the trafficking arena, such as illicit massage parlors. Since January 2015, the AGO has prosecuted or is currently prosecuting 372 cases involving 477 defendants that are connected to sex trafficking, child sex trafficking, sexual exploitation of minors, or illegal enterprises/money laundering in the trafficking arena, such as massage parlors. Learn more about criminal prosecution of human trafficking.
---
What is human trafficking?
Human trafficking is a form of modern-day slavery in which traffickers use force, fraud or coercion to control victims. Sex trafficking is any sex act traded for something of value that is induced by force, fraud or coercion or in which the person induced to perform such an act has not attained 18 years of age. Anyone can be a victim of human trafficking, including children, and those who are targeted come from diverse backgrounds, geographic regions, and life experiences. As one of the largest and most profitable criminal enterprises in the world, second only to illegal drug trade, it's imperative that the public and people who interact with children are aware of the dangers posed by traffickers and steps they can take to safeguard Arizona's youth. Request a free presentation.
---
How does it happen?
Victims are often recruited by a "boyfriend" or "girlfriend," but may be solicited by a friend, peer, family member, or gang member. Traffickers use grooming tactics, psychological manipulation, deception, physical violence, threats, blackmail, and/or sexual assault to get their victim to feel vulnerable, trapped and powerless. Their goal is to find your vulnerability and exploit it for their own financial gain. Often, traffickers pretend to be in love with their victims, showering them with gifts, affection and attention. They may make promises of a happier life, a brighter future and true love.
Eventually they will threaten to harm people close to their victim, such as family members or friends, as a way to isolate their victim and maintain their compliance. They may also take suggestive photos or videos of their victims to use as both blackmail and advertisements for sexual services. Sex buyers are the driving force behind this crime, allowing traffickers to profit from the sexual exploitation of girls and boys.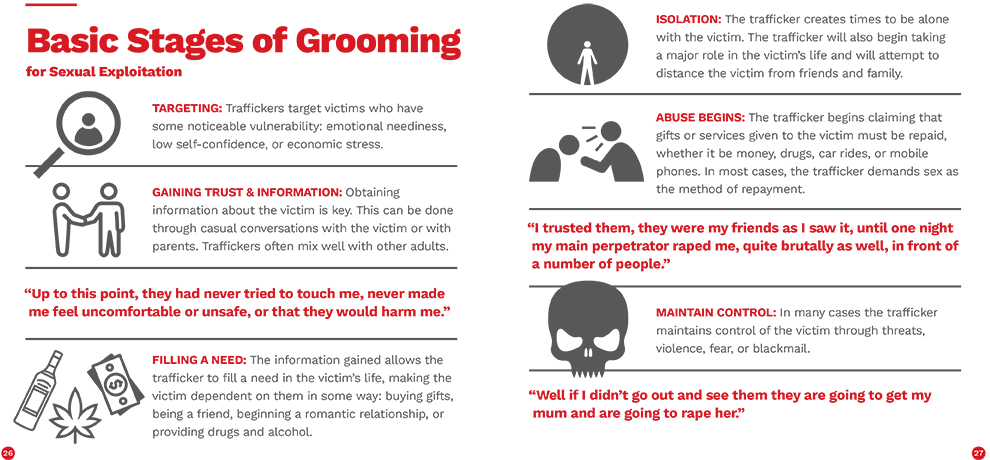 ---
Myths vs. Reality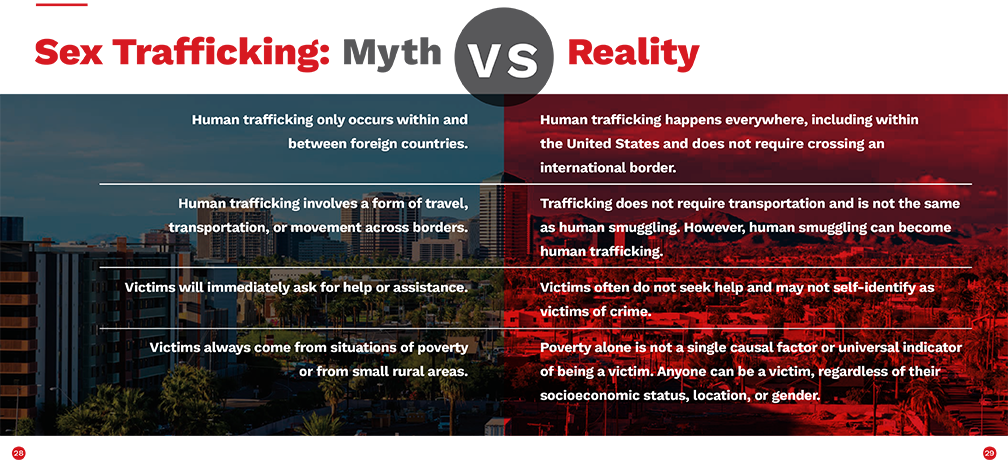 Download the full Human Trafficking booklet.
---
What is the Arizona Attorney General's Office Doing?
Human trafficking doesn't just happen in other countries; it happens right here in Arizona communities. The Arizona Attorney General's Office Community Outreach an Education Section travels statewide providing awareness presentations on trafficking for all who are interested. Our presentation, tailored and available for youth or adults, instructs participants on how traffickers in Arizona recruit their victims, the role of social media, and steps parents and others can take to protect children. We also provide real-life examples of human trafficking in Arizona and explain what you should do if you suspect someone may be a victim. Schools, faith groups, parents and Arizonans who work within the foster care system or social services are especially encouraged to receive this training.
Everyone has a role to play in combating human trafficking. Request a free training for your group.
Begin these conversations with your child. HERE are some suggestions to help get the conversation started and resources to support your family as you navigate these issues.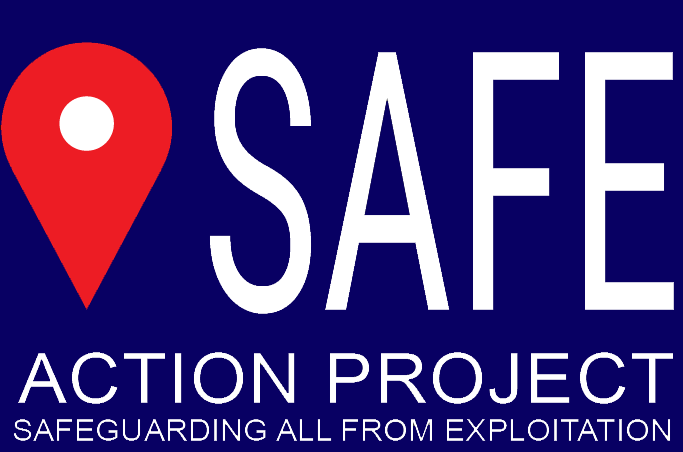 The Arizona Attorney General's Office is a proud partner of the Arizona Anti-Trafficking Network and the U.S. Department of Homeland Security Investigations – Phoenix on the SAFE Action Project initiative.
The SAFE Action Project is an Arizona-based, collaborative effort to train travel, hospitality, and tourism industry professionals at all levels to identify, report and prevent human trafficking.
Training on Human Trafficking for Your Staff – At No Cost to You
We currently offer our trainings in-person to any tourism or hospitality-related business. Hospitality and lodging establishments, among others, will benefit from curriculum designed by local experts with department-specific information for trainees. Security personnel in a business and front desk staff are going to face different circumstances due to the scope of their work, and their training should reflect that. Web-based training modules are also available and are easily integrated into new-hire onboarding processes.
To learn more or to request a training, please visit the Safe Action Project website.