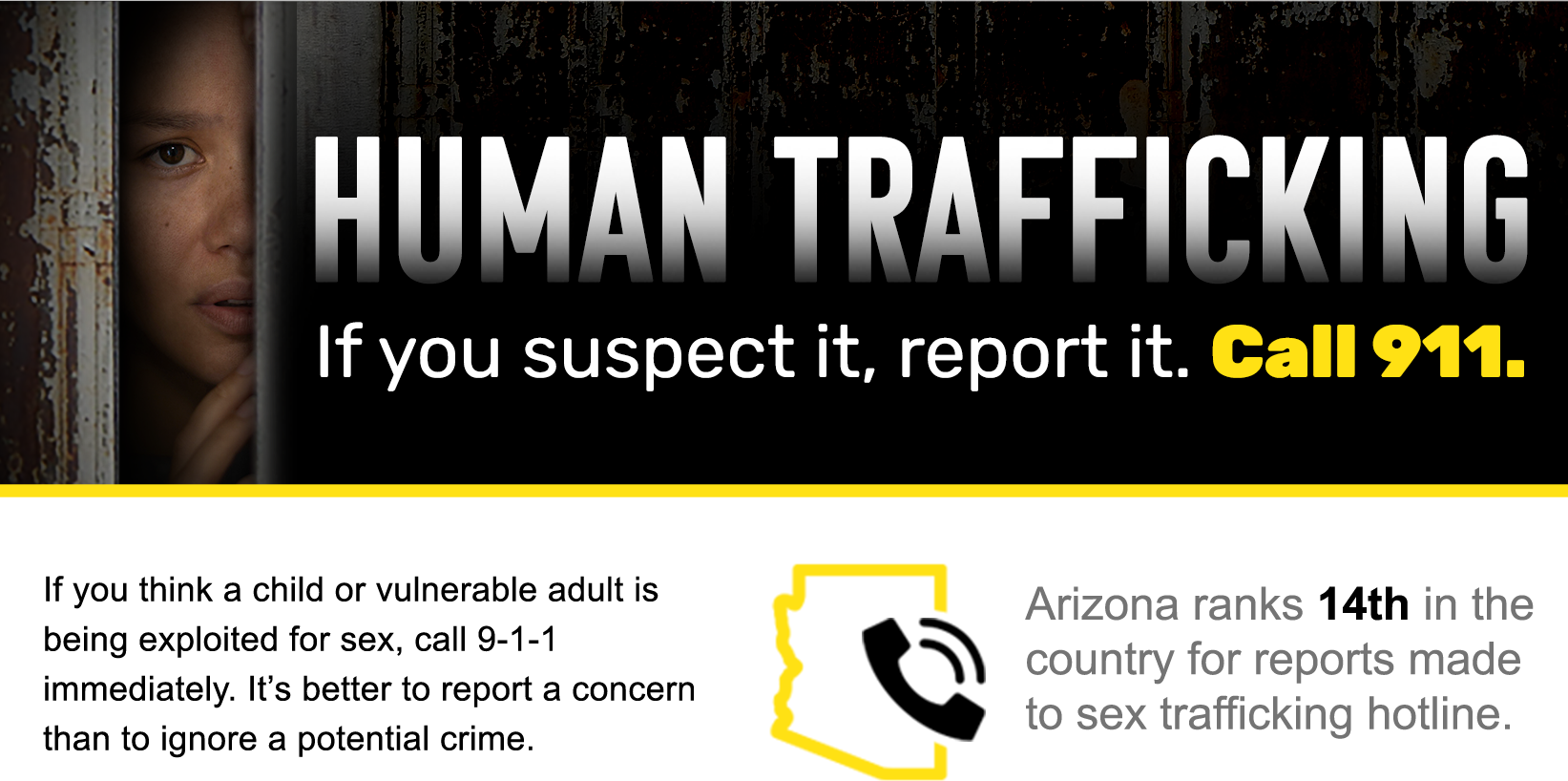 It happens every day, in our community
---
Human trafficking is an enduring problem in Arizona. As a major transportation hub with endless conventions, tradeshows and major sporting events throughout the year, Arizona is a prime location for sex trafficking and recruiting. Not only do we need vigilance from the community to help stop the criminals doing it, but we need to help provide relief and assistance to victims.

Know what to look for
---
Becoming a victim of sex trafficking can happen to almost anyone. Sex traffickers prey on the vulnerable, regardless of age, ethnicity, socioeconomic status, or gender. Wherever people are, predators can lurk, looking to exploit children or vulnerable adults.
Here are common warning signs that can indicate someone may be a victim of sex trafficking:
Abusive or controlling "boyfriend," "girlfriend" or family member
Appears fearful, anxious, depressed, submissive
Possesses new material items such as clothes, handbags, cellphones, or jewelry
Talks of traveling to other cities
Inability to explain how they make money
Lack of Identification documents and/or control of personal possessions
Inappropriate dress for age or surroundings
Indications of poor hygiene, fatigue, sleep deprivation
Signs of drug addiction, sexual trauma, self-harm
Malnourishment, excessive/unusual bruising, fractures, scars
Suspicious tattoos, marks, or branding (hands, neck, face)
If you suspect someone may be a victim of trafficking, please call 9-1-1.


Know where to look
---
Sex trafficking often occurs in plain sight. It can happen in our schools and parks. It can happen online and at shopping malls. It can happen almost anywhere. Common places sex traffickers may target or exploit their victims include:
Online, including social media and gaming platforms
Malls
Schools
Shelters
Parks
Detention centers
Bus depots/stops
Hotels/motels
Truck stops
Massage parlors
Strip clubs
Dating/Escort services