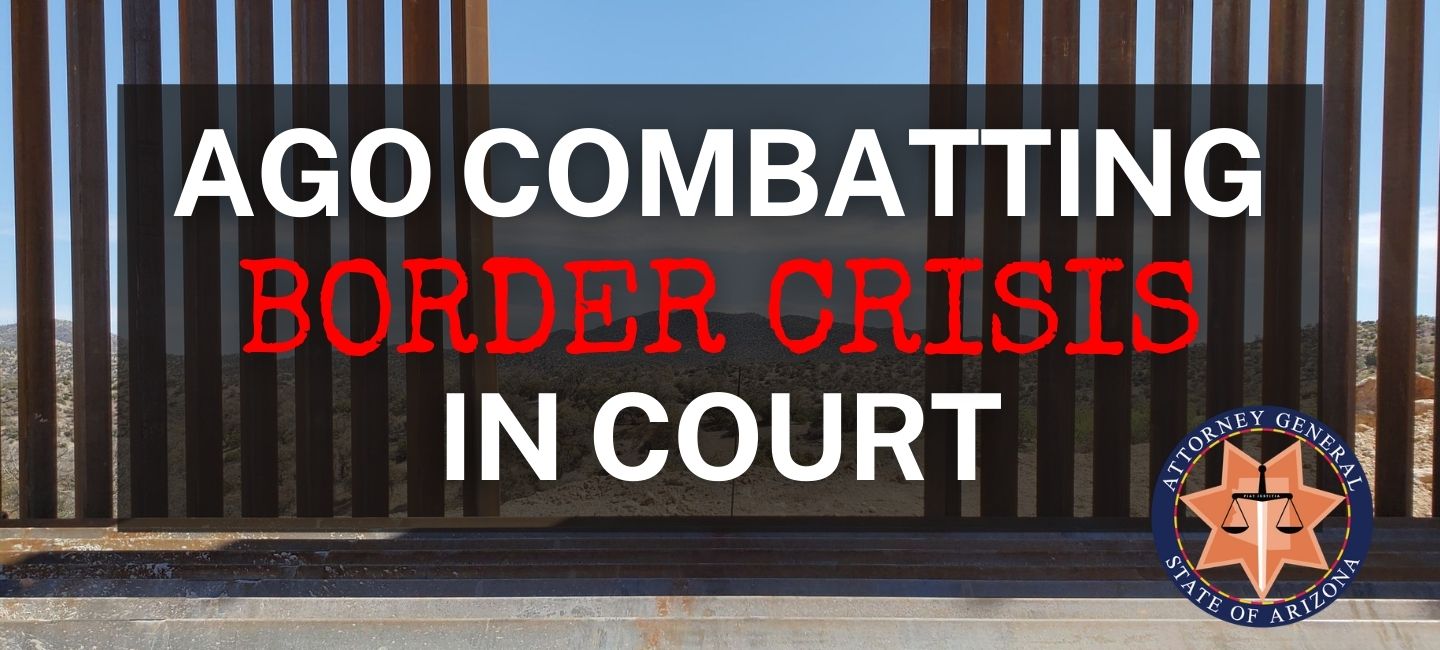 Attorney General Mark Brnovich has spearheaded efforts to stop the federal government's damaging policies that are fueling the crisis at the Arizona-Mexico border. Local law enforcement, communities, and nonprofits are overwhelmed with the surge of human and drug trafficking at our southern border.
In order to protect Arizona communities, the Attorney General's Office (AGO) has filed three lawsuits against the Biden Administration and its federal partners since January 2021 related to their immigration policies.
Arizona et al v. Biden (Challenging DHS Final Guidance)
Arizona is co-leading a lawsuit with the attorneys general from Ohio and Montana to stop the U.S. Department of Homeland Security's (DHS) dangerous Permanent Guidance. The immigration policy halts nearly all deportations, even for those convicted of crimes, and drastically ties the hands of immigration officers.
The coalition argues that the Permanent Guidance is in direct violation of federal law (8 U.S.C. § 1231) that requires a migrant who has received a final deportation order to be removed from the United States within 90 days. 
The coalition also argues the Permanent Guidance doesn't make sense because DHS failed to consider the serious problems the policy will cause. For example, the Permanent Guidance does not even consider the serious risk of recidivism among criminal migrants who are released into Arizona's communities. Additionally, the Permanent Guidance does not take into account the costs to the states, which will have to spend precious taxpayer dollars on increased costs for law enforcement and social services.
On March 22, 2022, a judge issued a preliminary injunction, stopping Permanent Guidance from going into effect.
NEPA Lawsuit
The AGO filed a lawsuit against DHS and federal officials for violating the National Environmental Policy Act (NEPA) over destructive immigration policies.
NEPA requires federal agencies to carefully weigh environmental considerations before taking any major federal action.
In its complaint, the AGO argues that DHS and other federal officials did not provide environmental impact statements or environmental assessments when DHS abruptly halted ongoing border wall construction and also began permitting entry of additional migrants by ending the "Remain in Mexico" policy.
Although courts have repeatedly recognized that increased population and human environmental impacts must be analyzed under NEPA, DHS has never even attempted to do so.
Public Charge Rule
The AGO is leading a 13-state coalition seeking to intervene in a lawsuit challenging the Public Charge Rule, which ensures noncitizens can financially support themselves in order to become lawful U.S. citizens or obtain green cards.
On October 29, 2021, the U.S. Supreme Court accepted AG Brnovich's petition to defend the Public Rule Charge. Arguments will be heard February 23, 2022.
Title 42 lawsuit
AG Brnovich's Calls for Action
April 2021
May 2021
June 2021
July 2021
August 2021
October 2021
November 2021
February 2022
March 2022
Migrant Protection Protocols
On May 18, along with Texas and Missouri, Arizona moved to intervene in a Supreme Court case considering the validity of the MPP: Mayorkas v. Innovation Law Lab, NO. 19-15716. 
AG Brnovich Letter - Converting Scottsdale Hotel into Detention Center
The AGO received several inquiries from Scottsdale residents regarding a proposed contract with the U.S. Department of Homeland Security that converts a hotel, located at North Scottsdale Road and East Mountain View Road, into a U.S. Customs and Enforcement (ICE) detention facility.
Attorney General Brnovich sent this letter to relevant parties regarding the proposed contract.
Press Releases
Cross-Border Partnership
Border security cannot be achieved while criminals can take refuge behind the border to avoid prosecution. To make Arizona truly safe, the rule of law must be established along both sides of the border. The Attorney General has worked closely with law enforcement throughout Mexico to help improve prosecutions at the Mexican state and federal levels. In addition to traveling to Mexico City to meet with the Attorney General of Mexico, the head of the Mexican federal police, and other high-ranking judicial officials, this Office has worked to train over 400 Mexican prosecutors as Mexico changes its judicial system to include more effective American-style jury trials. The Attorney General has also testified before the Mexican Congress on the need to improve Mexican criminal laws to better prosecute cartels.
Southwest Border Anti-Money Laundering Alliance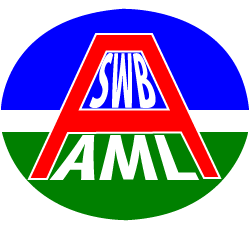 The Southwest Border Anti-Money Laundering Alliance is the result of a Settlement Agreement reached between the Arizona Attorney General's Office and Western Union Financial Services, Inc. The purposes of the Program are to: enhance and better coordinate investigations and prosecutions of money laundering in the Southwest Border Area (the area within 200 miles of the United States/Mexico border on either side of the border and including all of Arizona) (SWBA) and other areas affected by money laundering in the SWBA, with the goal of reducing money laundering and thereby reducing violence associated with smuggling organizations operating in the SWBA and in other areas affected by money laundering in the SWBA; enhance coordination of the Alliance states' anti-money laundering (AML) efforts; and fund related training, information sharing, and related expenses in the Alliance states and in Mexico.
Alliance funds were available for federal, state, county, local, tribal, and Mexican Initiatives, including technical assistance, training, personnel, supplies, and contractual support to accomplish any one or more of the Goals of the Alliance Strategy, which are listed below:
Disrupt criminal organizations that engage in cross border violence.
Disrupt the movement of weapons that flow across the southwest border into Mexico.
Develop a Southwest Border Area information sharing network.
Provide training for law enforcement, prosecutors, and private sector partners regarding money laundering.
Support multi-jurisdictional domestic and international money laundering investigations.
INTRODUCTION
The Alliance was governed through an Executive Board consisting of the Arizona Attorney General, the California Attorney General, the New Mexico Attorney General, the Texas Attorney General, the Director of the Arizona Department of Public Safety, the Superintendent of the Arizona Department of Financial Institutions, and the Chief of the Phoenix Police Department (the Board), for a total of seven voting members. The Alliance distributed funds for the Southwest Border Anti-Money Laundering Alliance Program to law enforcement initiatives along the Southwest Border Area.
The Alliance prioritized Initiatives that involved: multi-state and international money laundering mechanisms, the movement of money to smuggling organizations with a record of violence, the movement of weapons from the United States into Mexico or the use of such weapons in Mexico, multi-state information or data sharing or analysis, or training or coordination conferences relating to money laundering and related criminal activity. The Board only recommended funding of Initiatives that had potential to further the Alliance Strategy, which concentrated on a high-level financial AML approach, or that directly impacted substantial smuggling organizations or ongoing facilitators of such organizations.
The core vision of the Alliance was to create a network of people, agencies, task forces, and programs actively engaged in anti-money laundering enforcement in the SWBA. The Alliance built an internal network of analysts and investigators in each state, forming a network of money laundering, financial investigation, and asset forfeiture experts and made them available to SWBA investigators and prosecutors to assist in their money laundering cases. The Alliance developed people and resources and trained investigators, analysts and prosecutors and brought these networks together in periodic conferences to continually improve the level of effectiveness of collaborative enforcement efforts. The Alliance continues to foster cases and programs that directly address the growing power of criminal groups in the SWBA. The Alliance also will leave a legacy network of collaborating individuals, agencies, and efforts that include all related disciplines and all levels of government and spans the entire SWBA, including its Mexican dimension and related industries. The Alliance evaluated all proposed initiatives for their potential contribution to this overall vision.
The Alliance implemented this vision by allocating funds via the SWBA to initiatives that fostered cases, programs, and the creation of this anti-money laundering network and collaboration among the grantees. These efforts had to go beyond the investigative resources of individual agencies. They had to cross jurisdictional boundaries and lead to the arrest and criminal and civil prosecution of money laundering violators. Although an application by a single agency was eligible, it was not considered if its stated goals were best accomplished by a multi-agency, multi-jurisdictional task force. For the same reasons, initiatives that coordinated efforts with related Initiatives and with other initiatives such as the Border Enforcement Security Taskforce (BEST) teams of the DHS, High Intensity Drug Trafficking Area (HIDTA) initiatives, Organized Crime Drug Enforcement Task Forces (OCDETF) training resources, and federal, state, and local multi-agency, multi-jurisdictional task forces were most consistent with the Alliance vision.
Western Union
Cutting off the Illegal Cash Flow
$94 Million Settlement to Aid Law Enforcement in Fighting Border Crime
The most effective method of combating smuggling is to block the flow of funds to the organized criminal cartels that seek to profit from Arizona's porous border. The Attorney General's Office has aggressively pursued these "blood wires" sent through Western Union and other money transmitters. In doing so, it has successfully moved millions of dollars in smuggling proceeds out of Arizona. The Attorney General reached an unprecedented $94 million settlement with Western Union which will provide substantial new resources for law enforcement authorities in the four Southwest border states to combat illegal activity along the entire U.S.-Mexico border. 
---
Phoenix, AZ (Monday, February 3, 2014) – For the first time in history and as the result of a recently amended settlement agreement, Western Union and Arizona will take unprecedented and cooperative steps to combat money laundering. This includes Western Union's commitment to continue to implement a series of anti-money laundering recommendations. By forging this cooperative and major undertaking, Arizona will be far better positioned to protect its citizens from border violence, gun running, and human and narcotic smuggling along the southwest border.